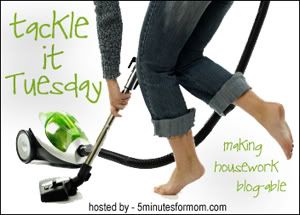 It's been a few weeks since I posted on "Tackle it Tuesday"
This week I'm posting a "tackle" that we did last weekend (because I forgot to post it last Tuesday, oops!)
Our garbage disposal stopped working, and a few days after that, it literally fell off! So, we bought a new one, and Joe set to work replacing it. This forced us to clear out everything under the kitchen sink. After doing so, Joe realized that the board under it was warped and needed replaced, so he cut a new board, made a frame to support it and installed the new garbage disposal. Then I covered the board w/ marble patterned contact paper to help protect it a little from moisture, and then I set to work going through all the crap that was under the sink, and reorganized it so that it was somewhat tidy and useful and easy to get to things. I forgot to take a "before" picture, but rest assured it was a cluttered, full messy cabinet. Now, here's the "after"...