The holiday yesterday threw me off, and I forgot to post my Menu Plan Monday, and here it is time for Tackle it Tuesday...so, I'm posting both today.
MONDAY: Deer burgers

TUESDAY: Chicken Lo Mein

WEDNESDAY: Crockpot Chicken Tacos

THURSDAY: leftovers

FRIDAY: Pizza/family night

SATURDAY: Ham crockpot dish

SUNDAY: Everyone grab whatever they want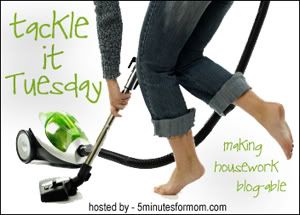 Well, we didn't exactly completely tackle it, but Joe made some great progress on our new mudroom (where our washer/dryer used to be, we are turning it into a mud room).
Peeling off the awful pink/flowery wallpaper the previous owners put up (I'm not a fan of pink or flowery!)...
Joe had to redo/redirect the ducting, since the vent was going to be *in* the closet if he left it the way it was, so he redid it so that the ducting would come out of the front of the new closet at the bottom, and he built a sub-floor to accomodate it...
Drywall going up and wiring run for switch and light...
We are on our way! We'll be putting in this closet and a bench next to it and shelves above the bench. Should make it SO much easier for getting everyone out the door in the mornings and having everything we need right by the door. I can't wait!