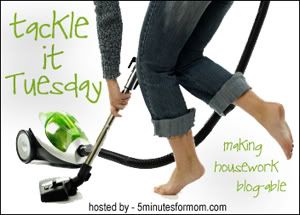 Okay, so I have barely been able to even "tackle" the regular household duties of laundry, dishes, cleaning, etc and now our vacuum cleaner broke too. So, while I am always busy doing things, nothing I've done seems worthy of a "Tackle it Tuesday" post this week, so I will highlight what my husband has been working on for us.
As I've posted about before, we are in the process of many on-going home improvement projects. The one taking priority right now is our new mudroom. I've posted some of our progress in previous posts. This week Joe had the walls ready to paint. We were going for a light green color, so he bought some paint and painted the whole room. The more it dried, and the more we looked at it, the more awful it looked. lol Instead of being a light green, it actually was way too dark, and looked more like a Kermit-the-frog green. Way too bold and overpowering. So, yesterday he went back, got lighter paint, and repainted the room. So, now we ended up with a lighter green- kinda like a mint-chocolate-chip-icecream colored green. Even though it still isn't exactly what I would have picked, it is much better than it was. I think once we have the bench and cubbies and shelves and hooks and our stuff in there it will look fine. He also tore up the old linoleum and prepped the floor, getting ready to put in ceramic tile.
So we are still slowly, but surely, making progress on that room. Will have photos to share before long, I hope.